Are you looking for alternatives for discord? let me tell you about the best 20 alternatives for discord for the year 2023.
20 Best Alternatives for Discord 2023
Discord is a great program for communication, however, it isn't faultless. Discord might not appear professional enough for some companies because it was originally designed as a gaming solution.
Some business owners could perceive a lack of professionalism while using Discord, whether it be due to the gaming controller iconography or the extensive selection of stickers or emoticons.
Do you wish to incorporate other applications into your Discord workflow?
If you want to integrate Trello or Asana with Discord, you might need to look for third-party solutions.
Although Discord is highly secure, your information might not be as safe and secure as you would like it to be because there is no private hosting. Other problems, such as server raids, can seriously harm both your server and your privacy.
There are many other Discord alternatives that you can try if discretion and professionalism are your top priorities.
The top 20 Alternatives to Discord
Are you prepared to evaluate a new communication app for your company? Here are the top 20 Discord substitutes currently on the market.
The finest alternative for corporate communications is Chanty. The app supports audio, video, voice, and chat calls. Along with a Kanban board, screen sharing, and discussion threads, it also has task management tools. Chanty is a great choice for you if you utilize a number of additional programs.
The comprehensive integration of Chanty with numerous tools such as Trello, Asana, Google Drive, OneDrive, GitLab, and others makes file and information exchange inside your workplace quick and easy.
There are several features available with the free membership, which also supports groups of up to 10 people. You can have an infinite number of team members and application integration with the $3 premium membership. Additionally, it offers screen sharing, unlimited group calls, and 20GB of file storage for each team member.
Chanty is a great Discord substitute, however, it lacks status messages to let others know you're "AFK" or "in a meeting." Additionally, there is no method to silence stations in the app.
ProofHub is a platform for total cooperation rather than just a communication channel. Plan; work together. Organize. Deliver. The best project management tool.
Powerful tools are included with ProofHub to keep you (and your team) on track. Time tracking, proofing, Gantt chart visualization, a discussion form, calendar functionality, task management, file sharing, a group chat, and many other features are among the essential ones.
Not to mention that it interfaces with many other apps, many of which you undoubtedly already use. ProofHub is a Discord substitute because of its group chat and debate features. Only ProofHub performs so many more tasks.
the majority of other applications. ProofHub has a subscription-based pricing model. Yes, there is also a free trial available. The least amount you must pay is $45 per month, invoiced yearly. However, this bundle only offers 15GB of storage, only permits a small number of projects, and is missing certain essential capabilities. The ultimate control plan comes with greater capability, limitless projects, and 100GB of storage for $89 per month when paid annually.
It's important to note that both packages provide an unlimited quantity of users.
A voice-over communication protocol (VoIP) service geared at gamers is called TeamSpeak. It provides incredibly clear communication without any latency on your PC or mobile device. Even though it was designed for gamers, TeamSpeak can be a great VoIP choice for many companies wishing to modernize their communication methods.
Outstanding audio quality and the option to synchronize your voice servers across many devices are both provided.
Although TeamSpeak is not free, it is a reasonably priced choice for group chat. One virtual server with 64 slots costs $55, while two virtual servers with 1024 spaces cost $500. TeamSpeak might be a better choice if group chat is the main reason you use Discord. Unfortunately, you might have to look at some of our other options if you're searching for an app that interfaces with other business systems.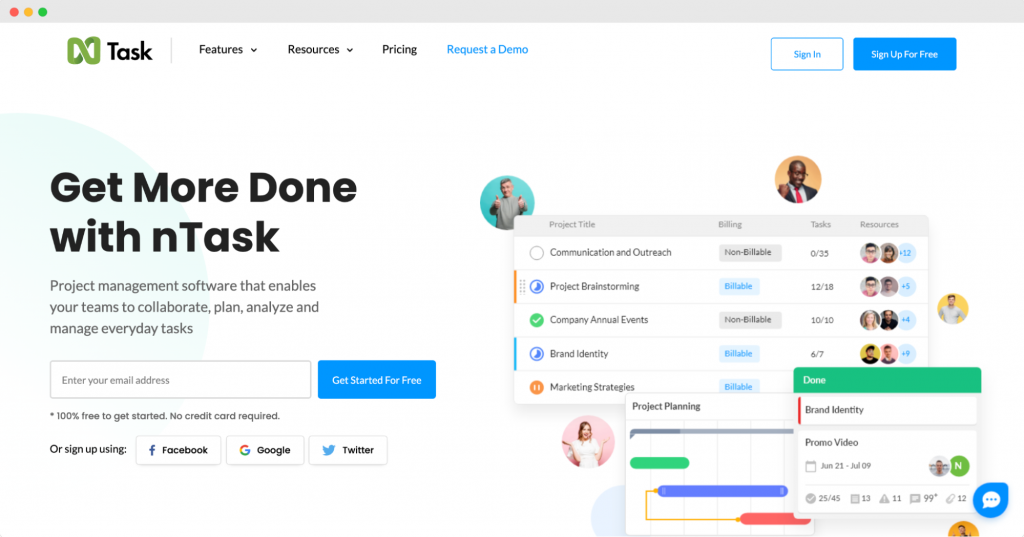 A complete project management tool is nTask. Utilizing nTask, you can collaborate with your teams fast and effectively. To assist you in managing your business effectively, the app includes a variety of work management, time tracking, and communication capabilities.
You may easily set up projects, arrange team meetings, and monitor team progress inside the program. Text messaging, Kanban Boards, and Gantt Charts are used to handle chat and communication. Other characteristics are:
Reminders
Notifications
Tasks for tracking team progress
A project can be set up with up to 5 teams of basic members. The cost of a premium membership per user per month ranges between $3 and $8. A subscription enhances your online store and includes features like custom fields, custom roles, and comprehensive reporting capabilities. Larger organizations can also use the corporate solutions provided by nTask.
Despite having few possibilities for group or video chats, nTask is still a viable choice for business owners seeking a project management tool rather than a fully featured voice communication platform.
One of the more well-known team chat programs out there is Slack. Slack is perfect for virtually any office setting because it has many of Discord's capabilities. The app may take the place of your team's email, team messaging, voice chat, and video conference applications. With its user-friendly design, you won't have any trouble getting everything set up and getting your staff on board. Even the onboarding procedure may benefit.
Slack excels the most when it is integrated with other applications. With a single mouse click, you can integrate anything into your Slack channels, from Office 365 to Mailchimp.
Slack offers unrestricted private and public channels, 10 app connectors, 1:1 voice calls, file sharing, and customized notifications. It is free to use. Business+ memberships cost $12.50 per user per month, while Pro memberships start at $6.67 per user per month. Group audio and video conversations, up to 500,000 participants, HIPAA compliance, and other features are available in upgraded versions.
Telegram is one of the greatest options if you're looking for an instant messaging solution for your company. This extremely secure platform provides strong encryption to protect your files and information.
Telegram places a high priority on messaging that is quick, dependable, and secure. This makes it a great substitute for WhatsApp, Discord, and many other IM services. The program can communicate practically any form of a file, including files, messages, images, and videos. They additionally enable group voice conversations, encrypted voice calls, and video calls.
This makes Telegram the perfect business communication tool. Unfortunately, users may discover that Telegram lacks task management applications or business connectors, therefore you might still want other business-related apps. Everyone can use Telegram for free, and it is open source.
A variety of productivity and messaging applications are available from Flock. Flock provides collaborative chat, project management tools, video conferencing, voice notes, to-do lists, and reminders in an effort to replace many apps.
Flock comes with almost everything you need to manage and interact with your team. Users of Flock receive 5GB of storage, 1:1 video calls, and ten public channels for free.
Once you upgrade to the Pro Plan for $4.50 per user per month, the product really shines. You can receive 10GB of storage per team member, private channels, group video chats, audio conferencing, and more here. Additionally, they provide a corporate solution for bigger organizations and corporations.
hen it comes to communications, Wire has you covered if security is your first priority. End-to-end encryption is provided by this messaging and conferencing app, guaranteeing the confidentiality and security of your data.
This 100% open-source project, which can be used for cloud, private cloud, or on-premise communications, offers some of the strongest security standards in the market. The top features are screen sharing, file sharing, video conferencing, and video calling. Additionally, you get data syncing, real-time notifications, and instant chatting.
Up to five team members can be handled using the free service provided by Wire. Enterprise packages provide app integration, team management tools, customer support, and team conferencing starting at $7.65 per month per user.
With the simple-to-use program Rocket.Chat, you may communicate with coworkers, businesses, and clients. Similar to Discord and its rivals, Rocket.Chat provides real-time chat, audio, file sharing, and video call services.
Rocket.staff Chat's takes security very seriously and uses secure file uploads and end-to-end encryption for all transmissions.
You can combine any other software you use at work with Rocket.Chat thanks to its app marketplace, which is stocked with a wide variety of options. You can quickly add a lot of apps to Rocket.Chat, whether you want to incorporate WhatsApp or Twitter.
The use of Rocket.Chat is totally free. There are 1000 users available in the free edition. Upgrades for pro users cost $3 per month. A social network login feature, up to 25,000 push alerts per month, hourly analytics reporting, and more are available in the pro edition.
You may be familiar with Hangouts if you currently use Gmail or the G Suite. The group chat tool from Google is called Hangouts Chat. Numerous tools in the suite make sharing and group discussions simple.
Video conferencing, audio chat, group chat, direct messaging, file sharing, and more features are available in Hangouts. It works well with all of the other Google products and is a great choice for many businesses.
Google Workspace comes with Hangouts Chat.
Gmail, Docs, Sheets, Calendar, Chat, and more applications are part of the app suite. Each client who purchases the standard business membership, which costs $12 per user each month, gets 2TB of cloud storage and 150 member video meetings. With the $18 Business Plus membership, you get 5TB of storage and 500 participant video meetings.
Additionally, if attending meetings frequently is a significant portion of your workday, we advise you to sign up for a meeting lifecycle assistant to increase your productivity.
Element is based on the Matrix open network and is open source and decentralised. It has autonomous and secure communication features that are superior to those of many other Discord alternatives.
The key aspect of Element is its quick and secure communications. Your data is always safe and secure when using Element thanks to end-to-end encryption. Along with rapid file sharing, 1:1 calls, group chats, and more services.
This chat software has several features, including limitless calls, texts, and rooms, and it allows you to communicate with users on nearly any other platform. For your protection, the app has no adverts, tracking, or data mining.
You can talk on the phone and use the video chat feature indefinitely with the free plan. You can connect other communication apps to Element by upgrading to the Element One plan ($5/month), which also offers quick hosting on a dedicated server. For $10 per month, the Home package includes five accounts.
For company owners, Mumble provides a low-latency chat alternative. Even though it was created for games, it can still be useful for your company.
Over a decade has passed while the Mumble team has been refining its software.
The app now offers astonishingly clean audio with almost minimal delay. A mumble is a great option for huge virtual meetings because servers can handle hundreds of voices simultaneously.
The project is open source, therefore using it in your company doesn't need a license. This is also an affordable phone communication solution because the hosting software is free. Mumble can also be tailored using web interfaces or outside apps.
Microsoft Teams and its rivals can be the best communication tool for your workplace if you spend the majority of the working hours on Office 365. This program has excellent Office365 integration and includes chat, voice calls, group calls, video, and file sharing.
Free to use, Microsoft Teams allows for meetings with up to 100 participants lasting up to 60 minutes. Additionally, you receive 5GB of storage, limitless chat, and file sharing.
In addition, they have plans for $4, $5, and $12.50 per user per month. These options increase the number of attendees, storage capacity, and meeting time. They also enhance client tracking, security, and other areas. The higher-tiered plans have more Office app integrations as well.
Skype is an alternative to Discord that offers voice and video calls, texting, file sharing, and other functions. Teams that prefer to utilize a single tool solely for communication and don't require bloated software may find Skype to be the perfect solution.
With its audio and video calling features, Skype excels. Skype makes it simple to chat with coworkers or clients anywhere in the world. Screen sharing, recording subtitles, dialing landlines, and smart messaging are further noteworthy capabilities. While using Skype, you can also obtain a local phone number.
Do you fear that your talks are being overheard?
Your privacy is important to Tox, a communication tool. Using open-source libraries, Tox completely encrypts every operation. Numerous capabilities, like as instant messaging, phone, video, screen sharing, and file sharing, are available inside the program. Group chats are only one of the many options available for groups.
Tox's scattered nature is what makes it unique. Since there are no centralized servers, they can never be raided, shut down, or compelled to turn over your data. Using Tox ensures the security and safety of your data. The program can be shared and updated by users, and it is free to use.
One of the most popular VoIP software projects ever, Ventrilo is frequently imitated by rivals. If you've ever played video games online, Ventrilo may have come in handy.
Today's software features amazing sound quality, surround sound, and unique sound effects. Additionally, it uses the CPU very efficiently and won't obstruct any other programs that are operating on your computer. The software is perfect for companies searching for a simple group communication tool without a need for integration with other apps.
There are many of the same features available with this Discord substitute. Secure calling, video calling, instant messaging, file sharing, and group conversations are all available on Viber.
Communities in Viber give users a means to identify pages that match their likes and interests. Communities are a messaging tool and social media platform combined. It only takes a few clicks to set up a community for your company, and you can quickly get your staff to use the app.
End-to-end encryption ensures security, so when using Viber, all of your messages and data are always secure. Additionally, the app provides trusted contacts to guarantee that you only chat with authorized team members. Viber also provides a variety of business and marketing solutions that can assist you with customer interaction, product promotion, and advertising.
Project management and communication technologies are combined in HeySpace, a collaboration application. As a communication platform, HeySpace offers users direct messaging, discussions, collaboration capabilities, and more.
HeySpace is the perfect option for small teams on a budget because it is free to use for up to 5 people. When utilising the free service, you get 10GB of storage and unrestricted chats, tasks, and projects. For $5 per month, premium accounts provide you with unlimited storage.
New views, video calls, tagging, and repeating activities are other additions. HeySpace is a fantastic substitute for Discord for small businesses that require a project management solution as well as a communication tool.
Confluence was first created by Atlassian in 2004. Since then, they have continued to work in unison to create, organize, and collaborate on projects.
Confluence excels in the area of allowing users to incorporate third-party applications, other Atlassian platforms, and Jira software into Confluence in order to speed up projects. The team also promises that Confluence templates are available for whatever task a user could need to do.
Confluence provides superior project management and communication tools, although Discord has somewhat superior file-sharing and management tools.
When users receive changes in their home page feed and emails, Confluence updates are less likely to be forgotten. However, because of all the integrations, some page components can be difficult to use and install, and you might experience integration problems that cause delays or extra labor.
For groups of 10 or fewer people, Confluence is always free, but it only offers 2GB of storage and fewer capabilities. For $5.50 per month per user, the Standard plan offers more services and 250GB of storage. Premium includes all features and unlimited storage for $10.50 per user per month.
19.RaidCall
Before Discord arrived on the scene with better marketing in the early 2010s, RaidCall enjoyed greater popularity. RaidCall is still in use, though. It's easy to use and straightforward, making it ideal for those who don't want to spend time learning a sophisticated program. It's free, which is an additional perk.
The main focus of RaidCall is extensive communication. In addition to file sharing, it supports voice and text chat. RaidCall has grown in popularity among millennials and younger generations thanks to its capacity to handle up to 100,000 people in a single group and integrate polls.
You can also watch embedded Twitch on the site, chat in different groups, share YouTube videos, and sync your Facebook account. Options for voice recording are also available in the application. Since it's primarily designed for gaming, the biggest drawback is that it lacks the project-management infrastructure that many organizations demand in a Discord substitute.