How can I use emotes and emojis on Discord? Here are five simple steps for using emojis on Discord; read the article to learn more.
How Can Easily Use Emotes And Emojis on Discord
The emotes in Discord can be used in either of two ways. https://discord.com/
1. Emoji Picker
The emoji picker to the right of your text bar is the simplest and most straightforward way to acquire emojis. Simply click the picker, and a window presenting several emotes—including frequently used ones, images of people, animals, food, activities, places visited, items, and symbols—will appear.
By using the aforementioned filters, you can select any of the numerous emojis that are available. Additionally, you may use the keyword search to exclude any emoticons whose names only partially match the term. Or, if you can recall an emoji's full name, you can only select it from the vast array of emotes.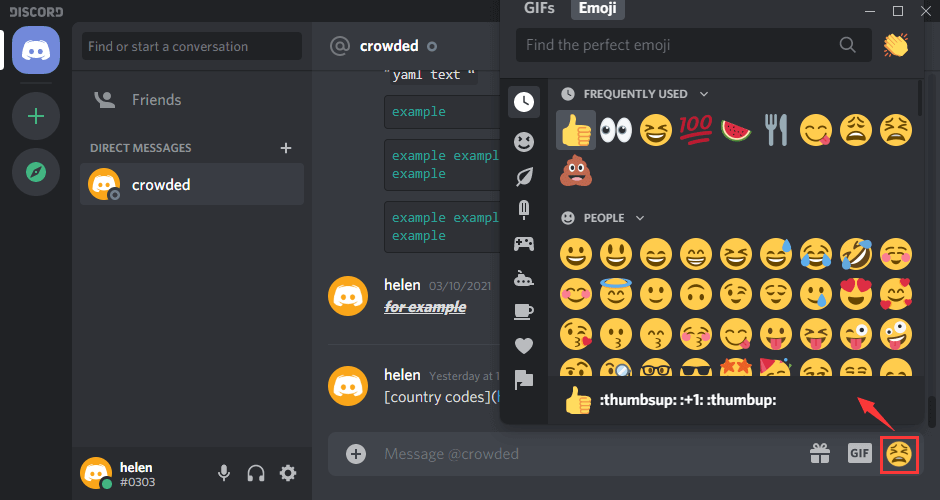 Additionally, you can add numerous emojis by selecting each one while holding down the Shift key. As a result, you don't need to repeatedly activate the emoji menu.
Tip: To make a specific emoji your favourite emote, click it while holding down the Alt key. Use the same method to delete them from your list of favourites.
By selecting the GIF icon next to Emoji Picker, you can transmit a GIF image file.
2. Using the Text Bar
You can get what you want if you can recall the name of the emoji you intend to use and enter it right into the text box. To send the emote, simply press the Enter key. All of the emoji names might be included in a pair of colons (:emoji name:).

3. Discord Text Bar
With Reaction When Typing Emoji
The "Add Reaction" option gives you access to Discord emojis as well. To access the emoji menu, simply hover your cursor over the message you received or sent, then click on the smiling face with a plus icon (which appears to the right of the message)

Additionally, by selecting the reaction icon next to the most recent emailed reaction, you can add additional reactions. Additionally, you can add numerous emojis at once by holding down Shift and clicking.
Reactions can be recalled by clicking on them, at which point they will vanish.
Simply hovering your cursor over a reaction will reveal the sender.
4. By Right-Click
To respond to a particular message more directly, right-click on it and choose one of your top 4 commonly used emojis. Alternatively, you can select Add Reaction and an emoji from the library.
Emojis will enlarge and become larger if you use the first or second way to get more emojis and there are only emojis in a single message as opposed to sending them with other content. Additionally, due to space restrictions, there may only be a maximum of 27 Wumboji emojis in a single message.
Emoji Wumboji for Discord

The wumboji effect does not exist in Compact mode.
How Can I Add My Own Custom Emojis and Emotes to a Discord Server Channel?
You can invite your customized emoticons to share with your members in addition to the official emojis. Additionally, you can use the integrated Twitch emoticons of the streamers you enjoy by syncing with them.
You must have permission to manage the server's emojis or be the owner of the server in order to add customized emojis. Then, use the instructions below to upload your own Discord emotes.
Go to the target server, select Server Settings from the drop-down menu by clicking on the down arrow next to the Server name.
On the following screen, select the Emoji tab. On the right side of the Emoji tab, click the Upload Emoji button.
To begin uploading your desired emojis, choose them from your computer and click Open.
Please be aware that there is a 50-custom emoji limit per server channel. Emoji names can only contain alphanumeric letters and underscores, and they must be at least two characters long. A single must also be less than 256 kb in size. You can submit custom emojis up to 128×128 pixels in size for the best resolution. However, they will only be 32×32 pixels in size.